I'm on a billboard! My piece 'Skateboard Park, Arms Up' is being included in a public art exhibition on billboards in Los Angeles sponsored by a non-profit organization called The Billboard Creative.
This is the image used on my billboard:
---
And below is the first picture… thank you Chris Danes!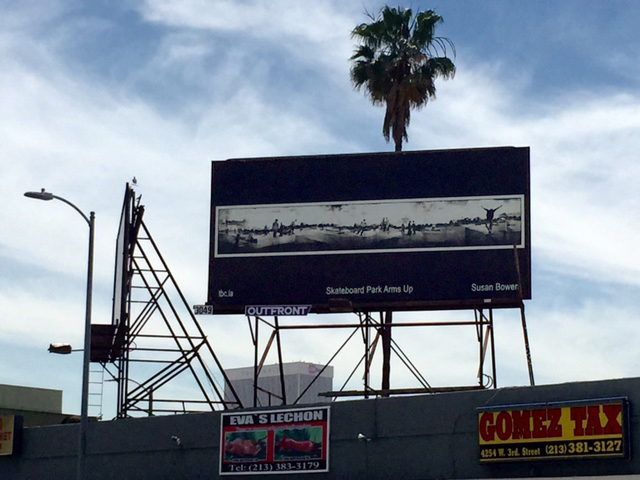 From the Billboard Creative website:

"This is the inaugural show from The Billboard Creative, a non-profit founded in 2014 with the goals of giving artists access to a mass audience and to make art as accessible to Angelenos as the numerous billboards that they view every day. Pieces from 14 artists from seven countries and working in a range of media will be on display throughout Hollywood and LA through May 15. Download a map to the billboards, including QR codes for Google Maps for each installation – then hit the road on your own art tour or simply keep your eyes open on your daily journeys."
Here is a link to the map of all the artist's billboards: Billboard Creative Map. The billboards will be up April 25 – May 15. Mine is on the corner of West 3rd St. and South Serrano Avenue.
---
Where did the palm tree go?! Images provided by Billboard Creative.